Over the years, I've been so amazed by the creativity within the CE community. So, I thought it would be a great idea to have this page on which they can showcase their artistic gifts. Anything is game: jewelry, paintings using any medium, sculpture, poetry…all varieties of soul expression. If you would like to showcase your own talent, email me the following at emedhus@gmail.com.
Artist name or pseudonym
A short paragraph/bio including anything you want to say about yourself and your art such as your background, the art medium you prefer, perhaps a description of your unique style, etc.
A link to your website/portfolio
You contact information (if it's not on the above link.)
At least one photo, video or audio of your artistic talent
And you can email all of this to me at emedhus@gmail.com.
MEET THE ARTISTS
DEEANN MCDANIEL
I was raised in Oklahoma, a member of the Cherokee Nation, and have been drawn to making art since I was a child in Muskogee.  Art was my way of journaling events in my life, as others might keep a written journal.  It has always been personal and deeply felt.  Every drawing or painting contains a goodly portion of my soul, and is an expression of love, be it love for an idea, a place, a person, a history or a heart-felt memory.  These are the reasons I paint and will continue to do so as long as I am able.  My media of choice are colored pencils, watercolors and alcohol inks.
After completing a degree in microbiology at University of Oklahoma, I attended Medical Technology School at St. Anthony Hospital in Oklahoma City.  As a registered Medical Technologist (ASCP) I married and spent many years living in different parts of the country.  I later obtained a Masters Degree in Molecular Biology.  I fell in love with the expansive landscapes and rock formations in Colorado, Utah and Arizona and lived for 20 years in Ridgway, Colorado.
During my time in Colorado, I was president of the Ouray County Arts Association for 10 years, and was the director of the annual show, The Artists Alpine Holiday, for 15 years.
In 2017 I felt it was time to return to my roots, and moved back to Muskogee, OK.  I've become active in the Muskogee Arts Guild, and have spent time embracing my Cherokee heritage and wish to expand on that through art.
DeAnn McDaniel
Art can be seen at Facebook/DeAnn McDaniel Art
*****
ELIZABETH LOPEZ
Hello, my name is Elizabeth Lopez. I've been a self taught artist for 20 years (started at 15)I specialize in graphite work, but I also paint, specially with acrylics. I've also done pottery. My philosophy in art is basically Love, to spread it, to understand it, to teach it because Love in all forms is very underrated; we speak of it freely, but we don't understand it. I also feel that if your art appeals to 'general' public and is well received, your job as an artist is almost complete. I don't believe in art only for the rich, it has to be multidimensional so everyone will understand it and enjoy it. I hope you can enjoy it 🙂
Contact info:
Phone No. 832-332-6790
email: elopez1384@gmail.com
Instagram: Instagram.com/tevacile84
*****
PAMELA MCCLENDON
My name is Pamela McClendon. I discovered Erik and his family a few years back on YouTube one evening, and after binge reading the website, Erik pranked me with my tablet twice. I can't say how thankful I feel for having him in my life!
I practice an art form called fluid art or acrylic pouring. It teaches me to let go, and find beauty in everything.
YOUTUBE CHANNEL   https://www.youtube.com/c/fxacrylics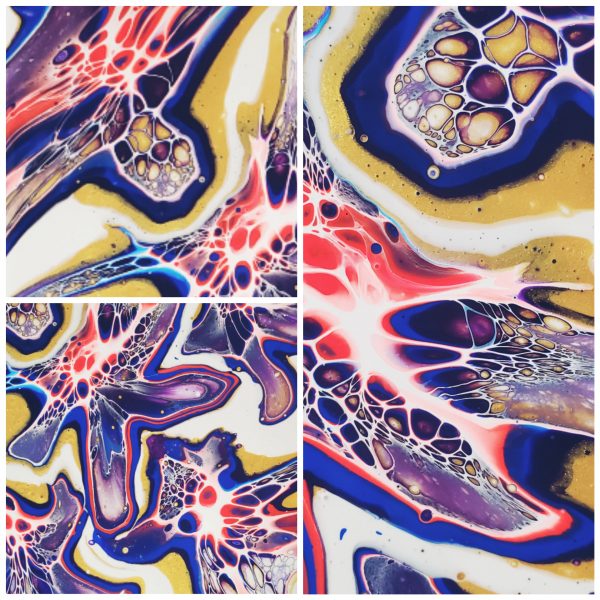 *****
SILVER LYNX
Sasquatch whisperer, aboriginal artist, author, publisher, conservationist, water protector, wildlife photographer and writer/musician
Silver Lynx enjoys living among the seclusion of a remote mountainous area, surrounded by nature, where she thrives upon the peace and tranquility that enhance her innate skills and abilities as a true, independent artist and photographer. The name Sooleawa is Algonquin, which means "silver".
Artist's Web pages
https://www.redbubble.com/people/SpiritoftheLynx
https://www.blurb.com/user/Sooleawa
https://www.facebook.com/SacredSasquatchBook
https://www.facebook.com/silverlynxstudio
https://www.facebook.com/wildshotsphotobook
Instagram: silver_lynx_studio
Twitter: @silverlynxphoto
YouTube: https://m.youtube.com/channel/UCn5C0zchbmu2xr__5N-Ph6Q
*****
LINDSAY C. ETHERIDGE (THE INTUITIVE ARTIST)
Medium: watercolor (mixed media)
Lindsay creates things that are unseen by channeling the divine through her art. She offers intuitive personalized paintings where she channels in your angels and guides. The channeling brings a personal message through healing imagery, giving you a visual reminder that spirit is always there gently guiding us with love.
Contact information: if you want to see more of my work please check out my Facebook or Instagram
Facebook: WhisperingVisions (no space)
Instagram: Whispering_Visions
*****
AIMEE DAVIS
Senior Graphic Designer / Brand Specialist
CONTACT INFO
MOBILE: (917) 968-6339
Email:aadavisdesign@gmail.com
ABOUT
I am an accomplished creative professional with 18+ years of Graphic Design experience with BFA in Fine Art. My expertise is in Graphic Design, Internet Brand Marketing, Social Media/Community Management and Digital Marketing. If your looking to start a new online business on Facebook or  your own Youtube channel and want a logo to brand your new company or startup, please feel free to contact me.
• Logos
• Branding
• Social Media graphics
• YouTube graphics
• Digital Marketing
• Facebook Business pages
• Social Media Campaign Building
• Flyers
• Book cover design
SKILLS
Software: Adobe Applications: Photoshop, Illustrator, InDesign, Digital Photography, Web Design, and Print Design
Illustration: Ink and Vector
*****
Now, it's your turn to submit your work!