Ah, what a different life. So many tears have been shed. So many hearts have broken. But so much has changed for the better. So many, including my family and me, have been transformed. Take a peek at the Medhus "Before" Life.
First, I need to remind you to not forget about Erik's Hour of Enlightenment radio show tomorrow at 4:00 PM PT/6:00 PM CT/7:00 PM ET.
Through channel, Jennifer Doran, Erik will discuss souls who volunteer to take the place of an incarnated soul who wants out because that life is too challenging. He also discusses how we have pre-planned exit points in our incarnation, why we have them and much more. Then, after 20 minutes, Erik will take questions from listeners. If you want to talk to Erik, call in to 646-716-9735.
You can also access the show through http://www.blogtalkradio.com/hour-of-enlightenment. You can find out more about Jennifer and all of her awesomeness at psychicmediumjenniferdoran.com.
TEN MORE DAYS LEFT and we're around halfway to our goal to cover 50% of the overhead expenses for Channeling Erik. We are hoping that everyone who watches the YouTubes, listens to the radio show and/or reads the blog and receives something positive will open their hearts and contribute what they can for the CE cause during this annual Fall fundraiser. It's very hard and time-consuming work, and the overhead is significant. Since I no longer practice medicine, I have no income, but of course I do get paid with the satisfaction that I'm giving my son a way to help others, including you! IF YOU CAN'T AFFORD any donation at all, your friendship is enough. I love you, my second family, very much, and Erik and I want to help, heal and move you in the right direction with a chuckle or two along the way.
The donation will show up as going to my company, ATLANTIS, INC. Thank you in advance. I love you all!
https://www.paypal.com/cgi-bin/webscr?cmd=_s-xclick&hosted_button_id=LRF5PZ4DRULLQ&source=url
If the above doesn't work, you'll see the donate button on the top of every post and on the homepage's righthand sidebar at https://channelingerik.com
BY THE WAY, I plan to (on Erik's suggestion) write a children's book series based on a character I created to tell bedtime stories to my children when they were very small and now tell my grand babies. I make the stories up as I go along, and they get pretty wild and crazy. I want to find a really good illustrator so will probably hold a contest for you guys to draw the character (a secret for now) in the series. I'll let you know sometime in early November after the documentary filmmaker is gone.
About the documentary. Many people have asked me how that came to pass. About a year ago, Paola Marino from Acquamarina Productions, asked if she could make a film about CE. She's been a follower for years. Of course I said yes, if we can spread a little spiritual awareness (and a little Erik naughtiness and wisdom) to more people. The filming has been an incredible experience. The footage captured has covered a huge gamut of emotions and the filmmaker, who was excited about the film's prospects from the beginning, is even more thrilled than she imagined. Another question I get is whether I will be paid, and the answer is no. Participants in documentaries rarely are and I wouldn't accept money any way. I get paid in fulfillment for my son and me as well as others.
Speaking of illustrations, before you go, let me introduce you to Yari, her CE story and her illustration of Erik.
Hello!
My name is Yari, I am 32 years old and I am a freelance Illustrator and graphic designer from New York. I love to do illustrated portraits because they are a unique way to make memories that people can give to family, friends and for themselves.
These are great for your social media icons, birthdays cards, christmas cards, and more. I also have an online store that I update frequently.
About six years ago I was going through a spiritual journey where I was not sure what to believe in, I grew up Catholic then tried Christianity but it did not feel right in my soul. I have always struggled with self-love like most people in this planet so I looked up youtube videos trying to find out more about God and the meaning of life. I read books, watched many videos about spirituality and it I felt like this was truly for me. Then one day I came across the Channeling Erik Youtube channel when I saw Jesus: The Afterlife interview! It was the first time I saw someone interview people who had physically died and I could not believe it, so I watched as many videos on the channel as I could I've been watching ever since.
And Yes I have been blessed with one of Erik's fart pranks! I have a 6 year old daughter and one day when she was younger, I was washing my hair and she standing by the door. Suddenly there was a disgusting smell and I asked her if it was coming from her, usually she says no while smiling if its her but this time she said no with an angry face and since it was just me and her at home, I tried to figure out what it was but then Erik popped in my head! It was pretty grossed but I deeply appreciated it! I am very grateful for Erik, Elisa and the wonderful mediums that deliver his messages. They all truly make my day better.
If you guys are interested in illustrating a loved one or you want to check out my online store, here is my contact information.
Yari V.
E-mail: DsgnStudio111@gmail.com
Website: www.DesignStudio111.com
Instagram: @DesignStudio111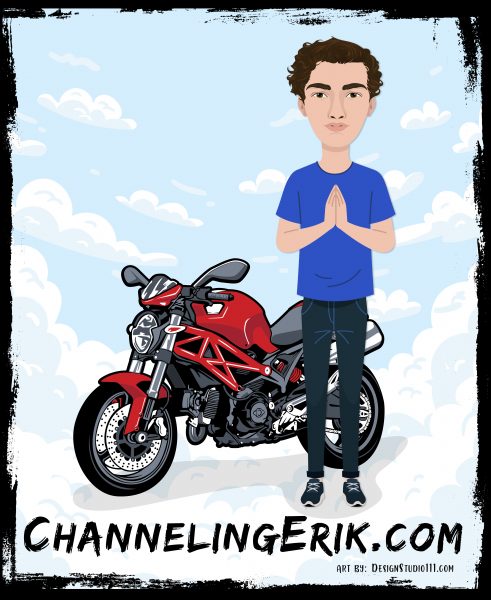 I love its quirkiness! It fits Erik perfectly! And that's my Ducati Monster. I rode that everywhere and Erik loved borrowing it. It's one of the few motorcycles I can ride with my stubby little legs!
Important links:
Blog: https://channelingerik.com
Watch our Tuesday night Radio show: http://www.blogtalkradio.com/hour-of-enlightenment
PLEASE click LIKE on our Facebook page: https://www.facebook.com/ChannelingErik
PLEASE follow me on Instagram: https://www.instagram.com/channeling_erik
PLEASE subscribe to my YouTube channel: https://www.youtube.com/c/ChannelingErik2121
PLEASE follow me on Twitter: https://twitter.com/CHANNELINGERIK