Oh my god, people. The event at my place Friday through Sunday was THE BEST EVER. Everyone who attended are now lifelong friends, and absolutely each and every person there told me the experience was beyond life-changing. Some who had had their gifts programmed out of them in childhood actually regained them, even allowing them to see Erik in their homes and in my kitchen! As usual, Erik played all sorts of tricks. He especially enjoyed spraying Jennifer and Jamin with water from the pool. 
There was so much LOVE at the event. I know, because my grand baby, Easton, picked up on it, giving everyone hugs, even resting his little head on their shoulder. Our dogs, Sailor, Scout and Bella, were bit hits, too. They were VERY comfortable with everyone, clearly sensing the wonderfully positive energy. And they seemed to go up to those who needed comfort at the moment, giving them licks and resting their head in their laps.
When everyone left, the house was so weirdly quiet. Although it was nice to get a chance to decompress and reflect in that quiet, I deeply miss my newfound friends. 
Next time we have an event, please join in. It's always–and I mean always–well worth it. START SAVING NOW! Looking back, $250 for three days with tons of food, wine, beer, water and other drinks, gift bags, fancy notebooks and pens, etc. is pretty cheap considering the benefits. And that also covered travel expenses for Jamin and Jennifer. What I'm saying is that the hosts didn't make a ton of money and really didn't have that intention. They just wanted to share their gifts and wisdom, and I truly think they both got just as much out of those in the audience as the audience members got from them. (Just a note: Rune and I refused any money, and I'm sure you understand why.)
Here's just one of the many cool stories: Attendee, Dan (who gives the best freaking hugs) booked at the last minute. He had been hemming and hawing over the decision for months. On the last day, he told me the experience was absolutely transformative in that he was one of those who regained abilities lost as a child.
I was very impressed with the young people who attended: Willow, Olivia and Blake. Such wisdom in these souls! I was also impressed that people came from all over the world, even Canada and freaking AUSTRALIA! (Hi, Rachel.) 
Jamin Olivencia and Jennifer Doran were absolutely magnificent. They taught us so much, and Erik gave everyone messages that were deeply impactful. Hats off to my boy, Lukas, who organized everything from beginning to end. I think he's very talented as a project manager with such attention to detail, even vetting people for dietary concerns and tailoring the catering to their needs. 
All in all, it was wonderful for Rune and me knowing that there's meaning, even value, behind our son's death. 
Here are some movie clips and photos, but be sure to check out the announcement at the very end!
Here are some short movie clips, too.
DON'T MISS THIS ONE:
Best Dinosaur Impression Ever!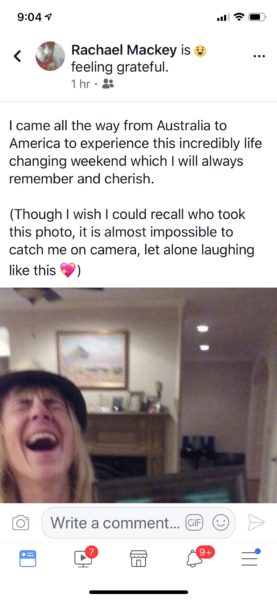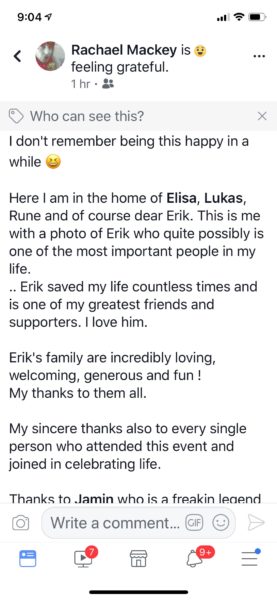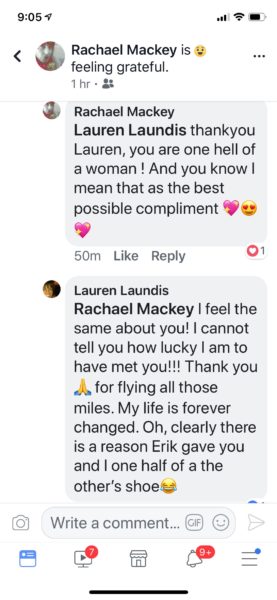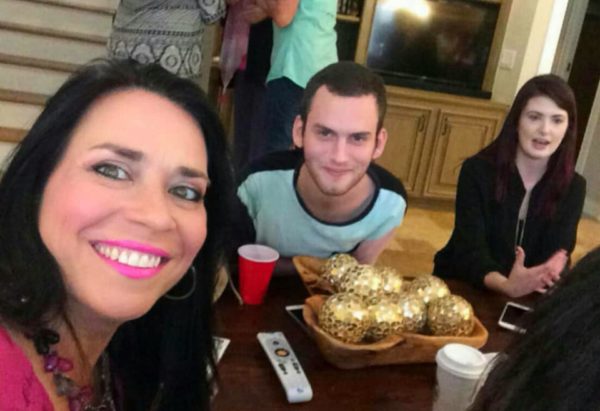 LAST BUT NOT LEAST! RAYLENE IS STARTING HER MONTHLY Q&A AGAIN. YAY!!!!!!!
Raylene would like to give a friendly reminder that her q&a question's are now up and available for purchase. This time around Raylene will be answering questions along with her co worker Kim Garibaldi the two of them will pull from tarot/oracle cards along with giving you a channeled message. They plan on doing this two times  a month so question's will open up twice a month . Please go to AngelMedium7.com click on q&a on YouTube then follow the prompts .  Here is a direct link but If the link does not work please go directly to AngelMedium7.com . Thank you!