Stigmata are not uncommon. YOU MIGHT HAVE one (even in your own mouth.) Some are religious, some are secular, some are ET in origin. FASCINATING STUFF!! This thumbnail image is a "grid mark" stigmata on a blog member's child. The Grid Mark Phenomenon is just one of many.
But first, a few announcement. Yeah, you know me too well!
I am still  having growing pains with the new biz, Atlantis Scalar. (The response to the energy work has been so transformative that there's been SOOOO much word-of-mouth.) So I'm still catching up, getting better organized and, eventually will get an assistant. (Erik says, organize your shit first, Mom.) That said, I'M GOING TO HAVE TO SKIP TOMORROW'S RADIO SHOW. Working 16 hours a day!!! (including weekends) so bear with me.
And this is why I haven't posted YouTubes as often even though I have a queue of videos waiting!! SORRY. Check out www.atlantisscalar.com. We have two new services suggested to me by Erik: Empath Protection and Messages from a Loved One. We've also added language to permanently revoke all spiritual contracts for physical, emotional, mental and spiritual ailments (although it doesn't help non-contractual ailments) as well as contracts denying abundance. Vows of poverty are just one example. Last, I've been SHOCKED by how many people have earthbound spirits in their home or on their property, so when we do portal (energy) work, we transition all of them into the Light and seal off any negative property like ancient burial grounds, etc. THIS HAS MADE A HUGE DIFFERENCE.
HERE IS A LIST OF CURRENT SERVICES:
Energy work (closing "bad" portals and opening "good" portals in your energy body and home, removing negative entities in and around your energy body, those attached to you and those roaming about your home, and wrapping energy bodies and the home with a shield impenetrable to negative entities and energies. (There's more as you'll see in the description box.)
Pet energy work (although we cover pets on the above)
Complete chakra tune-up (which can be bundled with portal work.)
Past/Future Life Trauma Origins
Consultation with Master Angel Erik
Yes or No questions for Master Angel Erik including questioning a mental health diagnosis
Healing recommendations
Portal/negative entity count (energy bodies and home)
Healing Spiritual Illness
Empath protection for children and adults
Guardian angel name
Message from a loved one
Mediumship package:

Opening the crown chakra
Opening the third eye
Decalcifying the pineal gland
DNA activation
Complete overhaul of all chakras
Awakening the Kundalini
Opening closed energy tears
Each of the above can be ordered separately
Business abundance package for small, medium and large businesses
Coming soon:
Ridding places of bullying (including but not exclusive to schools)
Next announcement: One of the most wonderful and generous souls I know, Heather Hartford, approached me wanting to make a CE fundraising Facebook page for me. She asked for NOTHING in return. PLEASE CLICK ON THIS. See how hard she worked!
'Life After Life' CE FUNDRAISER has 140 members. Join us for a fun filled weekend of light workers coming together to raise money for the Channeling Erik cause !
Next announcement (Don't worry, I'm almost finished!) Our own Veronica Drake made me this beautiful tile that she and Beings of Light work on together. This one, that she so generously gifted to me, was channeled, in part, to her my my own sweet Erik. It's done with an alcohol based ink. When I inspect it carefully, there is so much I see in it. And it comes with a channeled message as  well. I'm thinking these would be GREAT holiday gifts. Check out her site at oracleartbyvee.com.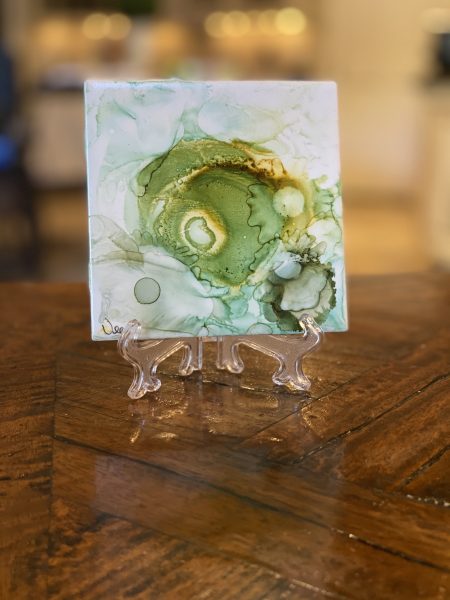 If you missed the radio show last week, it was a great one:
Tuesday, Erik discussed the different healing modalities available to us mere mortals, including ones he recommends through the healing team at Atlantis Scalar at atlantisscalar.com. Channeling him was Denise Ramon, one of the healers on the team! Please be sure to discover her many talents at deniseramon.com Then, after 20-30 minutes, Erik took questions from listeners, and the answers were channeled by Denise, as well. Last, if you want to talk to Erik in any future show, call in to 646-716-9735.
FINALLY! Here's the main event!
For those of you who are hearing impaired, click on the CC/subtitle icon at the bottom of the YouTube.
Important links:
New Energy Clearing Business Atlantis Scalar, Inc.: atlantisscalar.com
Blog: https://channelingerik.com
Watch our Tuesday night Radio show: http://www.blogtalkradio.com/hour-of-enlightenment
PLEASE click LIKE on our Facebook page: https://www.facebook.com/ChannelingErik
PLEASE follow me on Instagram: https://www.instagram.com/channeling_erik
PLEASE subscribe to my YouTube channel: https://www.youtube.com/c/ChannelingErik2121
PLEASE follow me on Twitter: https://twitter.com/CHANNELINGERIK