[paypal-donations]
Erik not only discusses the current obesity epidemic, especially in the West, he also shares how it's linked to modern-day, chemically mutated wheat along with many diseases and disorders. TIME TO RETURN TO ANCIENT GRAINS!
Before we get to the video of the day, I want to let you guys know that I'm going to Galveston, leaving tomorrow, and will return Sunday evening, so I won't be posting on the blog until Monday. But we will have the Monday morning Q&A with Pamela and Erik.
Exciting news! Michelle Gray is the medium hosting June's "Get to Know the Medium" contest! If you want to earn a free session (and the duration is up to her), then answer this question correctly: How many children does Michelle have and include the genders as well. All boys? All girls? A mix? You must say how many of each, if applicable. Email me your guess to emedhus@gmail.com. One guess per customer. No guesses after the deadline of Thursday night, 5 PM CT, otherwise I get tons of emailed guesses for weeks, long after we already have a winner. I will reply to the email with the correct answers. Good luck!  (Oh, and no more questions for George Floyd. I have more than I can get answered and they're all great!)
Also, I want to share an announcement from Raylene:
Amazing friends, my work has changed and moving in a slightly different direction. I will no longer offer 1-1 training or 25 minute readings. All Readings will be at 55 minutes by phone only I have limited availability with this change  I also had a price increase .
I am moving into investigation work and detective work I included a video clip that I had to slice this will  give you a view on what I am  now doing with my time. Please I know that a lot of time and contemplation went into this decision what has finally come to me is This is the healthiest decision for myself, my family, and my business, as balance in life is so important.
I'm so excited to offer a new opportunity; "Connect to Energy" webinar series. This is five (5) 1:15 hour online group webinars taught over the course of 5 weeks. I'm collaborating with my  reiki master Lali Akana who will Co-teach with me. This webinar series launches June 10th & I'd love for you to join us! Visit my website, www.angelmedium7.com for more information or to contact me with any questions.
With love and light Raylene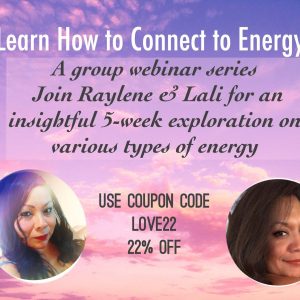 Last night's radio show was fascinating and very timely. Erik, through Kim Voigt, discussed current events, particularly the murder of George Floyd and the violent reaction to that injustice. Erik also discussed how this is all affecting the mass consciousness. The memories of some past events are actually in our present life memories as well as the memories of our ancestor. These memories can deeply affect us and our DNA. A lot of secrets were revealed in this one! Kim was, as always, amazing. I highly suggest you check out all of the many things she has to offer at embody-light.com. 
Enjoy today's YouTube. It's fascinating! And Veronica did a great job channeling my sweet boy. Check her out at veronicadrake.com. I hear her School of Spiritual Arts is fantastic and very inexpensive. 
For those of you who are hearing impaired, click on the CC/subtitle icon at the bottom of the YouTube.
Important links:
Blog: https://channelingerik.com
Watch our Tuesday night Radio show: http://www.blogtalkradio.com/hour-of-enlightenment
PLEASE click LIKE on our Facebook page: https://www.facebook.com/ChannelingErik
PLEASE follow me on Instagram: https://www.instagram.com/channeling_erik
PLEASE subscribe to my YouTube channel: https://www.youtube.com/c/ChannelingErik2121
PLEASE follow me on Twitter: https://twitter.com/CHANNELINGERIK
Check out my new YouTube channel (Two and a Half Dogs): https://www.youtube.com/channel/UCYJ2NDvcf9IG3eMu7KyXIdQ
Featured image courtesy of Green Child Magazine
Have a lovely rest of the week, everyone!