I love that Jimmy Hoffa's final resting place is no longer a secret. And it comes straight out of the horse's mouth! (Not sure if it's in Part One or Part Two though.) Find out that answer, about his life, his spiritual mission and much more. PLEASE SUBSCRIBE IF YOU HAVEN'T ALREADY. And I hope you click the like button and the notification bell so you won't miss any good content. LAST, SHARE ON YOUR TIMELINE AND OTHER SOCIAL MEDIA!! THANKS!
Veronica Drake did a wonderful job channeling, as always!
I have a message from Kevin James Briggs, our guest on the past radio show and on a YouTube session on the Channeling Erik channel. Here it is! Please mark you calendars if you are as fascinated by the topic of aliens, UFOs, alien Disclosure, etc!
There is an Aliens Revealed On Line Live Summit January 31st for 3 days. It consists of 28 speakers sharing their own understanding of our ET connections. I am sharing the contact information for those who are interested . The link is below it is free to watch over the three day period Dean Caporella is the organizer if you could share on your news letter or website that would be great. You just have to register to watch as I said it is free. Click
HERE
to register!
I just received Lorie Givens children's book a couple of days ago. It's entitled "Pogo the Porpoise with a Purpose" and I'm proud to say that my grand daughter, Arleen's, photo is in it! Here's the intro to the book:
If you've ever wondered what our animal friends might say to us about how we treat the planet, take a peek inside Pogo the Porpoise's world as he puts it all on the line and makes an appeal to kids for help. He's thoughtful and sincere but makes it abundantly clear that, in order for ocean life to continue and endangered species such as his own to survive, humans have to change. This book is a must-read for kids and a teaching tool that raises awareness about the world within us while inspiring change to the one within us. It's filled with high-resolution underwater photos, many of which were taken by scientists and photographers who have devoted their lives and professions to rescuing and advocating for marine life. One of these scientists is Dr. Anna Hall of Sea View Marine Sciences in British Columbia who wrote the book's foreword. "Pogo the Porpoise with a Purpose" speaks directly to kids with engaging poetry and includes lots of thought-provoking discussions, resources for increased learning about the environment, suggestions for how kids can make a difference, an invitation to adopt-a-porpoise, as well as a fun puzzle to solve at the end of the book. It also carefully highlights endangerment statuses and includes a handy conservation status guide to help kids better understand what endangerment means. This book has been officially leveled by Fountas and Pinnell and is suitable for kids of all ages but specifically leveled for independent readers at 4th grade or higher. It's also a wonderful book for parents and kids to read together. "Pogo the Porpoise with a Purpose" has been lovingly dedicated to the estimated twenty or fewer remaining Vaquita porpoises whose populations are declining through no fault of their own. Please join Pogo on this awesome journey by sharing his inspiring message and compassionate appeal with your family and friends. Your kids will love it, and so will you.
Find out more about "Pogo the Porpoise with a Purpose" at Amazon and Barnes&Noble:
https://www.amazon.com/dp/1732689040/
https://www.barnesandnoble.com/w/pogo-the-porpoise-with-a-purpose-lorie-givens/1136008634;jsessionid=673B90519561B4D4E07EE41E9A90923F.prodny_store02-atgap17?ean=9781732689046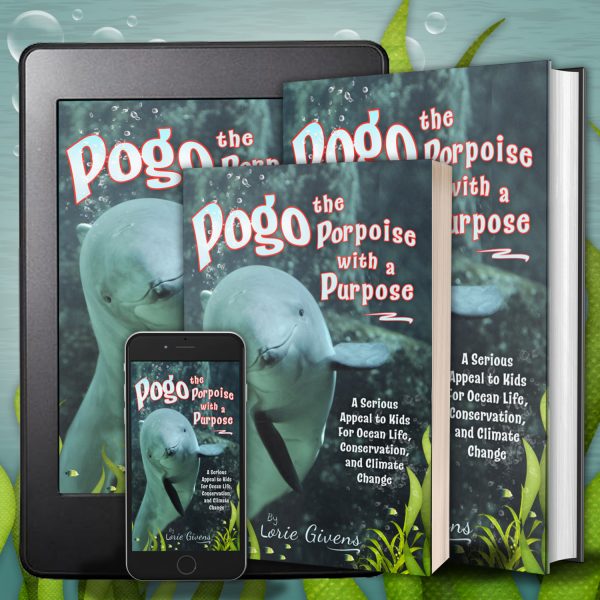 Featured image courtesy of wyxz.com
Important links:
Blog: https://channelingerik.com
Watch our Tuesday night Radio show: http://www.blogtalkradio.com/hour-of-enlightenment
PLEASE click LIKE on our Facebook page: https://www.facebook.com/ChannelingErik
PLEASE follow me on Instagram: https://www.instagram.com/channeling_erik
PLEASE subscribe to my YouTube channel: https://www.youtube.com/c/ChannelingErik2121
PLEASE follow me on Twitter: https://twitter.com/CHANNELINGERIK
Check out my new YouTube channel (Two and a Half Dogs): https://www.youtube.com/channel/UCYJ2NDvcf9IG3eMu7KyXIdQ
Have a lovely weekend!